New: VR VISIT by Viscon
360° livestreams and high-definition video content creation have never been easier. All it takes is one VR VISIT unit and one person. That's it.
VR VISIT can be easily shipped to the desired location – anywhere in the world.
No training is required for on-site operation.
Handling is very easy – thanks to its uncomplicated user guidance.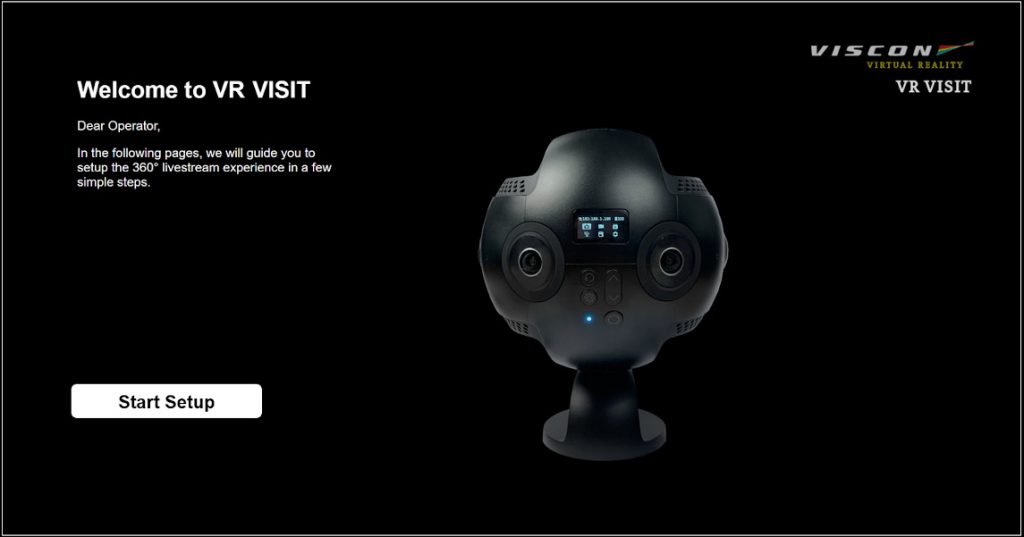 During the development of VR VISIT, we asked ourselves how virtual site inspections in real time could be made possible with the least possible effort. The unique result is now ready for the market and has passed all tests with flying colours. Feel free to join in our delight.
Streaming "out of the box": Image and sound transmission in real time. Viewers of the stream can guide the wearer of VR VISIT by commands and communicate with him/her. 360° video and sound can be recorded.
Who can benefit from VR VISIT? What can the innovation be used for?
The opportunities for application are highly flexible. Some examples.
Manufacturing industry: from virtual live training/education to presentations of large production lines or processes
Automotive: presentation of e.g. automation lines (automotive test systems) in the education, training and sales process, creation of VR live content
Museums and theme parks: from virtual tours to streaming including recording of events or as a tool for performance art
Sports industry: creation of exciting, high-quality 360° videos for promotional purposes, streaming or documenting events
Or, think of company tours of all kinds, trade fair tours via livestream… everything is feasible without complication.
Benefits of VR VISIT
Easiest handling thanks to graphical user guidance
Savings in travel costs, CO2 emissions and time
No obstacles to travel such as visa requirements, etc.
High-resolution video quality up to 8K
Of course, you can purchase or rent VR VISIT from us effective immediately. If you would like to know more about VR VISIT – technical details, handling or streaming and recording capabilities – feel free to contact us!